An Introduction to Roller Skating
Roller skating has been around for hundreds of years, with the first roller skate debuting during a London stage performance in 1743. Today roller skating is not only a great physical workout it's also a lot of fun for people of all ages! There are many types of roller skating as well as a large variety of skates available, so having some knowledge of these helps buyers make informative decisions.

Indoor Skating
Indoor skating takes place in indoor roller rinks. Some people prefer indoor skating as it isn't affected by weather conditions. It is also very good for beginner skaters as there is usually a wall or rail for them to hold on to while they learn to keep their balance. More advanced skaters can usually participate in 'speed skating' sessions. Many rinks hold a roller disco with music and lights which is a lot of fun for all ages.
A popular indoor roller skating sport is called Roller Derby and it began in Chicago in 1935. Both men and women take part in this contact sport in teams of five players. Each skate clockwise trying to score against the other team by passing them.
Outdoor skating
Popular places for outdoor skating include local parks, walking trails, beach promenade, or car parks. Some people prefer outdoor skating, not wanting to feel confined to skating around in a circle in an indoor rink. Sometimes people like to skate outdoors to enjoy the weather, have a work out or even skate to work!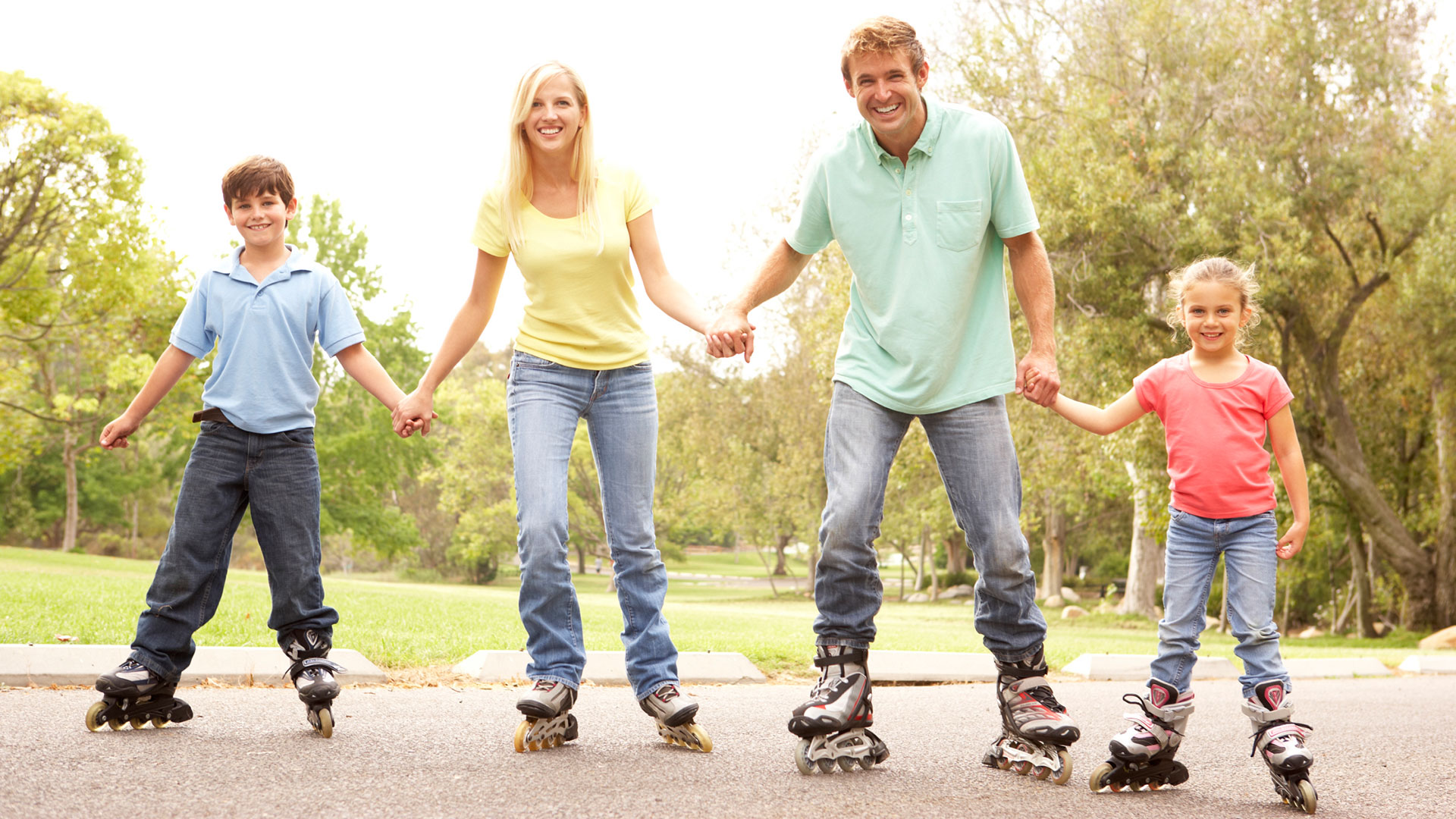 ​
Types of Roller Skates
There are many different types of roller skates available, such as beginners, recreational, advanced, artistic or sporting Derby skates. What to go for depends on the individuals skating ability and goals.
Quad Skates have four wheels and are the 'traditional' roller skate. They are perfect for those wanting to learn to skate, perform skating tricks, use for jam or artistic skating, play roller Derby, skate outside or for just having fun at the local Roller disco.
At Oli's skate shop we specialise in custom building quad skates. We convert the high performance and well known Bauer brand ice boots into quad skates. We currently convert the Bauer Vapor X200, Bauer Supreme 140 and the Bauer Nexus boots fitting a variety of plates such as the playmaker or probe plate depending on the customer's requirements. Wheels, bearings, stoppers and laces are then chosen by the customer to suit their needs. Another popular model which is a great all round indoor and outdoor skate is the Ventro Pro Turbo which are ideal for beginners and intermediate skaters. Similar to theold style Bauer Supreme Turbo's which are no longer available they have a robust design at a reasonable price and are available with a variety of wheels, bearings etc. depending on customer's requirements.
Also available are the soft style indoor skates in many different colours and patterns, ideal for the beginner or occasional ska
When people think of speed skating many imagine inline skates, however speed quad skating is very popular. A speed quad skate closely resembles a shoe and will fit close to the foot with very little padding, increasing the foot to boot ratio. The cut of the boot is low and usually sits around the ankle bone or just below it. The design of the skate allows for a huge amount of a manoeuvrability and the lightweight plates reduce fatigue in long distances. Speed skates are used for lap skating, time trials, sprints, relays and marathons.
Derby skates are a very popular choice featuring a soft low ankle boot for indoor use. There are some great value Derby style skates for recreational use or for those just starting out in Roller Derby. They are very comfortable and perfect for intermediates or pros who demand a level of excellence from their boots. As the specification of the boots gets higher so does the price so the more you spend the better you get in terms of comfort, fit, plates, bearings and wheels. Amongst others we offer the Sure-Grip and Riedell boots designed for top level Derby play with top of the range plates bearings and wheels.
Artistic quad roller skates are made of typically made of leather with a raised heel and designed for dance. Artistic roller skating is similar to figure skating but competitors wear roller skates instead of ice skates. They require a strong plate as it needs to withstand the shock of jumping and landing and Artistic roller skates usually have a stainless steel or aluminium plate for that reason.
A good choice available to children are adjustable quad skates which have the advantage of being able to adjust through 3 or 4 shoe sizes as the child grows. They are usually available in boys and girls colours and a variety of styles and are ideal for a child starting to learn to roller skate.
Jam skating is a combination of dance, gymnastics, and skating performed on roller skates. The style has its roots in traditional roller disco but is also greatly influenced by breakdancing, Artistic skating, gymnastics and modern dance. Jam skating events involve skaters meeting, trading moves and the chance to 'battle' each other. Jam skates have a unique low cut design and no toe stop, instead they are fitted with a jam plug. They feature lightweight frames for fast, agile movement required for jam skating.
Inline skates are usually used for travelling at speed on smooth ground. They have 4 wheels directly behind each other in a line, hence the name 'Inline Skates' this allows for a faster smoother ride requiring less effort. Most adult skates in this category come with large wheels sized between 76mm and 90mm, although if you are new to inline skating we would recommend sticking to 84mm and below for better balance. As with quad skates the price goes up depending on the specification required.
---
There are no products to list in this category.